Briefcase is a personal storage space for your files – and it comes with 2TB of cloud storage! It's synced between all of your PCs and Macs, and is accessible from anywhere online or on your mobile.

The same files on every computer
Briefcase appears as a new drive on your Mac or PC. You can use it like any other drive – drag and drop files and open them in your favourite apps – but it's synced to the cloud and between all of your computers, so your files go with you anywhere.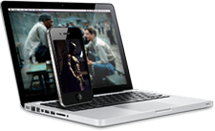 Set your files free
With Livedrive's apps you can access your files from anywhere at anytime. Stream your music and movies or view your images and documents on-the-go. We have apps for iPhone, iPad, Android, Chrome OS and Windows 8. Plus our mobile site allows you to access your cloud from any web enabled device.

One click sharing
Need to send large files to your friends, family or colleagues? No problems – with Livedrive you can share files with one click. Either share publicly with the whole world or share privately and securely with selected people – we'll email them a username and password.